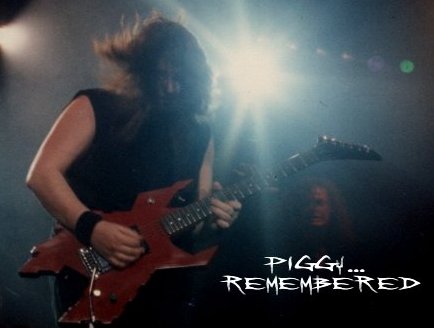 ---
BLACKY:
"Life does not always turn out the way you expect. Mine and the lives of many of my friends from Jonquiere were certainly influenced by one specific person, Denis D'Amour. He was a mentor and a hero for many of us. He was my best friend.
"I have dreaded the arrival of this day for a while now. My old bandmate is gone. He passed away last night at peace with himself and without pain. Until the very end he was both a sweetheart and a real rocker, without compromise.
"I am so grateful that I had the chance to let him know how much he meant to me and how much I loved him. Denis did not live to see his last artistic effort released but the rest of us will appreciate it all the more.
"Long live Denis D'Amour. Long live Piggy."
---
AWAY:
Last week has been very tough on me, as I spent it at the hospital with Denis. We had been musical partners since 1979 in high school, and it will be a hard task for me to cope with his departure.
I would like to thank:
All the Voivodians who sent kind words via email.
Julie (the angel) for taking care of Denis the past few months.
The D'Amour family, for their strenght.
Jason and Snake, always the ones to bring a smile on Piggy's face.
Gilles Gravel, Denis' oldest friend, for the contructive thoughts and positive presence in the hospital room.
My friends from Aut'Chose, for respecting my inner suffering at Saturday's show in Quebec City.
The End, for believing in us.
Thanks also to Trish, James and Yuri for the eternal support.
My apologies to the ones I'm forgetting right now.
Staring at Mars after the show, I couldn't stop thinking that Piggy is now achieving an old dream of ours ; touring the universe !
Adieu Denis mon ami...

---
SNAKE (what he read in church during Denis' service):
Mes amis, chers parents,
Et bien Piggy.. on pourra dire que tu nous as filé entre les doigts. Tu étais là, seul sur ton radeau. Nous avons tenter de te lancer des cordages mais cette marée noire t'as emporté, au loin vers l'horizon ou tu es disparu. Nous, nous sommes resté sur le quai, dévastés, en regardant la mer, les yeux dans l'eau. Tu avais déjà essuyé plusieurs tempêtes, mais tu as maintenu le cap et tu as tenu la barre plus souvent qu'à ton tour. Tu aura été notre capitaine tout au long de ce voyage. Tu as été la pierre angulaire de cette fantastique aventure.
Je me sens si fier et chanceux d'avoir été de la partie. Avec toi, nous nous sommes engagés, pour le meilleur et pour le pire. Nous avons appris à connaitre nos propres limites, à tenir bon, à nous dépasser.
Avec toi nous avons fait le tour du monde et eu la chance de cotoyer nos idoles. Au sud, au nord, à l'est et à l'ouest. Nous avons fait des malheurs. Comme de véritables aventuriers, nos jours de misères étaient récompensés par de brefs moments de luxures, où là, en riant, nous nous demandions comment nous avions fait pour passer au travers.
Toi et ta guitare ne fesait qu'un. Ta curiosité t'as amener à explorer hors des sentiers battus, à inventer de nouvelles façons et ainsi à te distinguer des autres. Tu n'as rien à envier à qui que ce soit. Personne ne te vas à la cheville. Le grand Hollywood peut aller se r'habiller, de toute façon, c'est toi qui disait : "C'est toutes des enfoirés"
Tu as raison, "C'est toutes des enfoirés"
Piggy je t'aime pour ce que tu es, pour ce que tu as été, et parce que tu resteras toujours dans nos coeurs. Comme une légende ne meurt jamais seul, nous aurons de la difficulé à concevoir le monde sans toi. Si tu veux que je chante, alors, je chanterais. Assez fort que l'écho de ma voix traversera les montagnes. Je porterai nos couleurs et notre effigi jusqu'à ma mort, et je ferai en sorte que jamais les océans n'oublient ton nom.
Piggy, toi qui est une star dans le ciel, soit notre guide spirituel et veille sur nous.
Tout pour le rock!
Voivod pour toujours!
Vive Piggy!

---
ERIC (E-FORCE):
PIGGY.........
1 of the coolest indivduals I have ever met.
When I first joined VOIVOD in 94 I could not beleive how such a professional musician could be so down to earth and humble. I lived and learned alot from him et AWAY(of course). I have many good memories of him of which I will treasure forever.
PIGGY, never above you
never below you
always beside you brother
Forever, ERIC

---
KATAKLYSM:
"It's with great sadness that we have learned today that Denis (a.k.a. 'Piggy') has passed away. The impact of his guitar influence was felt worldwide. His work in VOIVOD opened the doors to many metal bands in Canada and gave all of us hope for better things in this scene. He was the nicest guy you could meet and the must humble person you could talk to.
"We are sad to see you go, brother, but you legacy will live forever. We will see you on the other side.
"Our best wishes go out to all in the D'Amour family and to all in our Canadian metal godfathers VOIVOD. Stay strong.
"Like we say back home: Lachez Pas les Gars!!"

---
KING FOWLEY (DECEASED):
DECEASED frontman King Fowley has issued the following statement regarding the passing of VOIVOD guitarist Denis "Piggy" D'Amour:
"One of the most devastating things ever for me!
"I have been the biggest VOIVOD fan since my first time ever hearing them 20+ years ago. They've always been my favorite band, and Piggy's passing away has really devastated me.
"To the band: Much respect for handling it the right way, and I wish you well in this time of mourning.
"To his family: My heart is with you!
"I love you, Denis 'Piggy' D'Amour. You were never less than genuine to me! And I take that with me forever!
"Rest in peace, my friend."

---
CRISIS:
CRISIS guitarist Afzaal Nasiruddeen:
"The metal world lost a legend last night. A guitar player that stood head and shoulders above the vast majority of copycat metal axemen, Piggy was a true pioneer and visionary, along with his bandmates in VOIVOD. We, in our metal circles, called them 'Piggy chords' that he played - a style of playing and a sound that he made up himself; an approach that was unprecedented. Pure genius. His was a style that was effortless and uplifting.
"I will never forget him laughing while telling me that whenever he saw VOIVOD guitar tablature in a magazine, it was always wrong. The authors could never figure out what Piggy was playing, so they always created these complex looking chordal structures. Piggy would laugh as he showed me how simple his actual approach was, and how his chords were created purely by sense of sound and feel as opposed to some technical nonsense.
"I cannot begin to express how devastated all of us are feeling right now. Piggy was a friend, an inspiration to all that knew him. A musician's musician. A kind man with a very jovial and otherworldy spirit. I know he is at peace now.
"CRISIS toured extensively with VOIVOD and all I can feel now is guilt for not keeping in touch with him over the last many years. Ironically, VOIVOD had just become our labelmates and we were very excited at the possibillty of touring with them again after many years. Now those hopes seem dashed. Such is life.
"All of us in CRISIS extend our deepest condolences to Piggy's family, his girlfriend, and the rest of VOIVOD.
"Piggy, my friend, you will be sorely missed, but your amazing music will live on forever, especially since it was music that was eons ahead in time of the rest of the metal world."
CRISIS frontwoman Karyn Crisis:
"I am so deeply saddened by the loss of Piggy, a consummate artist and innovator who understood that music goes so much deeper than catchy riffs and stylish trends; that it is a force which can move, inspire and empower people.
"My hope was that VOIVOD's new album would've had the chance to open young minds and re-acquaint the metal world with a band largely attributted to be the pioneers of the genre, whose haunting and hypnotic music has influenced so many bands over the past 20 years.
"I am so honored to have been able to tour with Piggy and VOIVOD and to have been accepted as a valid artist by such legendary musicians, and to have had the opportunity to contribute in a small way to the 'Phobos' album.
"It is a testament to the power of their art that VOIVOD had the courage to stay true to their vision, refusing to compromise or call it quits when the success and broad recognition they so duly deserved alluded them. But such is the path of the pioneer; to challenge the status quo and not necessarliy be accepted by it.
"I wish strength and healing upon Piggy's bandmates, girlfriend and family in this time of irreplaceable loss, and I smile knowing that there are so many wonderful moments shared with Piggy by the countless lives he has touched. His spirit most certainly lives on."

---
Glen Drover (MEGADETH):
"Here we are in Reading, PA doing yet another Gigantour show. My guitar tech Willie Gee came to me about an hour ago to tell me the bad news that Piggy passed away. I grew up listening to the band and I was a big fan of all their albums, and we're very sorry that this has happened. Shawn and I are going to dedicate tonight's performance to his memory."
RIP

---
THE END RECORDS:
In Loving Memory of Our Friend and Hero, Denis "Piggy" D'Amour:
We are all devastated by the tragic passing of a true legend, our beloved Denis D'Amour aka Piggy. Piggy and the rest of Voivod have already become family to our team here at The End, and they are the nicest people to be around. Piggy was a big inspiration to us and his many other fans the world over. We feel lucky for the privilege of getting to work with him and to know him. No words can describe our admiration for him. Piggy's guitar playing was always full of energy and innovation and life. In many senses, he will always be alive through his music.
We love you Piggy, and you will always be in our thoughts. May you rest in peace, dear friend. Our deepest condolences to his family, friends and bandmates.
--the staff at The End

---
DON KAYE (respected journalist):
"It was almost exactly twenty years ago that I first met the members of VOIVOD, including guitarist Denis 'Piggy' D'Amour. I had been following their career for a year before that, through demos and then the 'War and Pain' album. SLAYER and EXODUS were playing a festival in Montreal that summer and I flew up there with Monte Conner [currently in the A&R department at Roadrunner Records in New York]. The day after the show, we went and hung with VOIVOD for several hours at their shared apartment. Right from the start, it was evident that these guys were genuine, cool, nice people, and Piggy, who was one of the quieter of the four, was a gentle and good-natured soul.
"The next time I was in Montreal was for the legendary World War III festival in November of '85, along with Monte and Borivoj and several others. This time VOIVOD headlined the show, and it was great to see this band live for the first time.
"The first two albums were chaotic, noisy, and almost unlistenable at points, but they possessed a truly exotic quality and style that sounded like nothing else on the thrash scene. With 'Killing Technology', the band began to find themselves as players and songwriters, and started on a path that made them one of the most unique bands in all of metal. Piggy was a huge part of that with his distinctive playing and tone.
"I worked at Noise Records for a short period and was involved in promoting the band's fourth album, the brilliant 'Dimension Hatross'. As a result, I got to spend more time with the guys and found them as great to be around as always. Even as their fortures began to soar to some degree - peaking with the 'Nothingface' album, on which they headlined over SOUNDGARDEN and FAITH NO MORE - the members of the band never changed, and Piggy was as low-key, unassuming, modest and pleasant as ever.
"We more or less lost touch over the years, but it was good to see the band get a bit of a revival going with the return of Snake on vocals and Jason Newsted coming in on bass. They may not have ever sold tons of records, but VOIVOD was getting the recognition they so richly deserved for their impact on metal, and Piggy was acclaimed as one of thrash's guitar greats.
"It was so sad to hear about his illness, and simply horrifying to hear about his untimely passing. Piggy is one of too many kind souls who have left this life too early. Our generation - that is, the generation of metal musicians, record label folks, journalists, DJs, etc. who started their careers in the mid-to-late-Eighties - has lost too many friends already. Denis D'Amour, Darrell Abbott, Chuck Schuldiner, Tony Bono, Quorthon and Paul Baloff are all gone, and we've had damn close calls with James Murphy and Chuck Billy. Losses like these make all the other crap that goes on - from the petty bickering on the boards to the titanic, childish ego clashes like the one we've seen in the last week - seem utterly foolish.
"And now we say goodbye to another dear friend, and one of the most innovative musicians who ever wielded an instrument to play heavy metal. My deepest condolences go out to Denis' family and friends, and especially to Michel 'Away' Langevin, Denis 'Snake' Belanger, Jean-Yves 'Blacky' Theriault and Jason 'Jasonic' Newsted. Rest in piece, Piggy, and long live your music."

---
Shaun Glass (SOIL):
"The news I was told today made my stomach go in knots. The metal community has lost another amazing player.
"Piggy to me was a man that could make a guitar sound like NO ONE ever has.
'I remember my first time meeting the band as a fan I would write to them and was invited to stay at their old apartment for the now infamous World War 3 fest in Montreal [in November 1985] - a five-day vacation of hanging with my idols VOIVOD.
"Piggy, I love you. And to the remaining members of the fucking best thrash metal band ever, all my thoughts are with you.
"For my fallen brother tonight, we are in Florida and I will play this show for you, Piggy.
"To the death!!!!
"R.I.P, Denis D'amour."

---
Larry Roberts (NOVEMBERS DOOM):
"Many people may never have realized what a tremendous influence this man [Piggy] and his band is/was on me. I started listening to VOIVOD back around 1987, and I became very obsessed with their sound and their originality. To this day I find lots of inspiration and influence in Denis' writing and playing style.
"I had the pleasure of meeting Denis on several occasions over the years, and he was always extremely friendly and hospitable. I last saw him in Chicago twice during their last tour a couple years ago, and as always he was friendly and nice, and needless to say he played better than ever.
"It absolutely devastates me to know that I'll never see him and VOIVOD play ever again, as they were truly one of the most amazing and criminally underrated bands to have come out in the past twenty five years. Albums like 'Angel Rat' and 'Nothingface' are amongst my top twenty albums of all time. I can't fathom not being able to see and hear those songs live again, as I'm sure many other fans feel the same.
"My heart goes out to his family, friends and bandmates. It astounds me as to how all the truly great ones always leave us way ahead of their time.
"Playing a show tonight at JJ Kelleys, lots of my good friends will be there, and I hope to get them all to join in a toast to Denis D'Amour, my hero."

---
Denis Sasquatch Barthe (AGGRESSION):
"I am very sad and feel very empty right now. Piggy was one of the greatest persons you could ever meet.
"My band AGGRESSION used to practice right beside VOIVOD for years and how many times did Piggy help me, giving me guitar strings to replace my broken ones. How many lessons, stories about the great guitar heroes did we share. I still remember jamming 'The Magician's Birthday' with him just like if it was yesterday.
"I offer my sympathy to his family, Away, Snake & Blacky. Piggy totally showed 'em the way. He was a true teacher. The city of Jonquière just lost its most distinguished ambassador.
"So many memories, so many laughs..."

---
SCRATCHING POST:
We love you and miss you, Denis D'Amour. You were a true friend and we will never forget you. Voivod Beaucoup.

---
Mille Petrozza (KREATOR):
"VOIVOD has always been one of the most important bands in the genre for us, not only because we have become friends since our first tour in 1987, but also on a musical level! Piggy taught me those strange 'VOIVOD chords' back in the day, which since then appeared in many of our songs! It's very hard, to find words when someone like Piggy, who was the friendliest and coolest musician on earth, passes away. We will miss you! R.I.P."

---
PURE SWEET HELL:
"One of the metal universe's brightest stars has gone supernova. We in PURE SWEET HELL are heartbroken over the news of Denis 'Piggy' D'Amour's passing. He was a true revolutionary and pioneer of metal guitar playing. His influence is profound and goes much further than anyone will probably ever know, or admit. We would like to extend our deepest sympathies and condolences to his family, friends and bandmates. We would also like to give respect to our other fallen brothers, their families and friends: Krzysztof 'Doc' Raczkowski (VADER's death metal drum genius) and Ronald Eichhorn (loving and supportive father).
"Rest in peace, gentlemen."

---
Schmier (DESTRUCTION):
"I feel really sad, empty and distraughted about the too early loss of VoiVod guitar player Denis "Piggy" D´Amour!
Another pioneer of metal has left the stage but the legend of Piggy will live forever!
He was one of the most down to earth guys I´ve ever meet in the music business, he´ll stay in my metal heart forever, that´s for sure!
I´m speechless, hard to describe my feelings with some useless words!
Our very first American Show was at the WW III - festival in Montreal 1985 together with Voi Vod. I´ll never forget those days, we had some great partys together!
He was one of a kind! A honest personality in a scene where others built their sucess on fake image and scandals!
R.I.P. Piggy! Brother, Initiator, personage - you have set a shining example for many of us!
Our next shows will be to your dedication bro and to the ones of the great VOI VOD!"

---
Andreas Reissnauer (METAL BLADE - EUROPE):
"This morning we got to learn the devastating news that VOIVOD guitarist Denis 'Piggy' D'Amour passed away Friday night.
"Another tragic loss for the world of metal. We at Metal Blade send our condolences to his family, friends and band mates Away, Snake and Jasonic.
"Piggy's work with and for VOIVOD is beyond what words can express. He found his own style of shredding the guitar and inspired thousands of others with his spacey sound. Albums like 'Killing Technology', 'Dimension Hatröss', 'Nothingface' or 'Negatron' will forever be some of my favorite metal albums.
"I am glad I had the chance to hang out with Piggy and the VOIVOD gang for a night in the late Nineties. Piggy was just a nice person and very funny in character. He will be missed!"

---
Mikael Åkerfeldt (OPETH):
"The members of OPETH send their condolences to the family and friends of the recently deceased Denis 'Piggy' D'Amour, guitarist of classic Canadian band VOIVOD. R.I.P!
"As I was getting into real heavy music in the '80s, VOIVOD was one of my absolute favourite bands and their 'Dimension Hatröss' album was essential for the development of OPETH's music!"

---
Anders Jakobson (NASUM) :
"What the fuck is going on? People in the metal community seems to die each and every week... Now Piggy of VOIVOD passed away due to the big C, and it is of course as sad as any death these days.
"I've listened to a couple of the old VOIVOD albums and I've liked the weirdness of their music. Their disharmonic riffing was a huge inspiration for Dan Swanö and I in our shortlived project ROUTE NINE.
I haven't paid much attention to what Piggy and VOIVOD done lately but what I've read they we in the midst of doing a new album when this sad thing happened.
"Yet another sad passing for sure..."

---

OVERBASS:
To our friend Piggy!

1984, Jonquiere QC, jai 12 ans on est a lécole et un amis nous dis que le soir même nous sommes invités à allez voir un band metal qui répète dans un sous sol...Voivod...à l'époque en sortant de la répétition on disais que ca allais être un grand groupe, jamais on as douté de leur talents...et on avait raison. Ils on influencé la majeur partie de nous musiciens du Québec mais aussi ceux du monde entier. Piggy avait ce sourrire si contagieux, cette musicalité si originale, On adorais écouter ses histoires de tournée ponctuéés d'anecdotes. A Away & Snake & friends, on est avec vous, on pense à vous si fort!!!
Gille Gravel: merci pour nous avoir tenu au courant de tout et surtout merci d'avoir été la pour Piggy.

Vos amis de toujours, Joel & Shantal

---
SCALD:
Very sorry to hear this grim news, without Denis/Voivod, we would not be the band we are today, may he reside in strange-chord Valhalla! Thanks + RIP.

---
Former GORGUTS guitarist Steeve Hurdle:
It is with sadness that this morning I heard the terrible news. The great Piggy is gone... Denis D'Amour is still my biggest influence in mastery of guitars.
"Today I'll mourn and remember the two times I met him... where he was so kind and respectful to his fan...
"My thoughts are with his family and close friends on this horrible day.
"You will be missed, Denis. A true genius you were.
"Rest in peace."

---
IOANNIS:
Renowned album-cover artist:
"In the early summer of 1989 on my second job for Mechanic Records after finishing DREAM THEATER I flew up to Montreal to meet four young incredibly talented musicians - Away, Piggy, Snake and Blackie - and their young manager Pierre.
"We got together in a coffeehouse, listened to old URIAH HEEP and Denis' favorite band, ELP. Away showed me some cool artwork he had developed for the upcoming new album to be entitled 'Nothingface'.
"We decided to use a new technology to enhance the art: A COMPUTER!! We digitally colored the ink drawings and added subdued faces screaming at Denis' suggestion in the background. He was so quiet, he played me the cover track of the PINK FLOYD track they were including he was brilliant!
"'Nothinface' holds many cherished memories for me as we did a lot together that year to promote that album with the height being New York, where they headlined over FAITH NO MORE and SOUNDGARDEN. What a night! They pulverized the crowd. We did it all over again for 'Angel Rat', then drifted apart as the label went belly-up.
"I am totally crushed, and feel a horrible emptiness, I was hoping to catch them this time around and get ourselves caught up. My sympathies and prayers go out to his family, friends and bandmates. I will terribly miss his talent and his kindness.
"R.I.P., Piggy."

---
AGORAPHOBIC NOSEBLEED/PIG DESTROYER guitarist Scott Hull:
"I can't think of a band that has meant more to me for as long as VOIVOD has. The news of Piggy passing away from colon cancer on Friday, August 26th is absolutely crushing. Piggy was nothing short of a true pioneer who, along with his bandmates in VOIVOD, changed the shape and very fiber of metal early on. Consequently, he has been the direct primary influence on countless bands since the early '80s. I can remember running home with a copy of the 'RRROOOAAARRR' LP the day of its release. I remember sitting in front of my speakers listening to it over and over again for two days, poring over all the lyrics and pictures on the sleeve. It changed me forever, as did each subsequent record.
"Anyway, godspeed, Piggy. . . and thank you again. All of us in PIG DESTROYER and AGORAPHOBIC NOSEBLEED send our condolences to his bandmates, family, and friends in their time of loss."

---
Former FORBIDDEN/MANMADEGOD and current SPIRALARMS guitarist Craig Locicero:
"First off, I must say how saddened by the passing of Piggy (Denis). My heartfelt condolences to his family and his band members.
"Now that I've had a couple of days to really let it sink in, I feel I must pay my respects to one of the greatest innovators in all of modern metal/punk/hard rock.
"The reason I listed so many styles of music is because he touched on all of them so effortlessly. Musical growth and experimentation is exactly what Denis was all about. Here was a man that couldn't have cared less about what the outside world was thinking when he would create the style that flowed out of his figures so naturally.
"When VOIVOD started out, they were considered noise by most who listened to them. Clashing chords that nobody ever imagined as being musical grating down the listeners back, like fingernails down the chalkboard.
"Wow, I remember saying to myself, 'What the fuck are those guys doing?' The answer was, whatever the hell they felt like. That was just the beginning for Piggy and VOIVOD. The way they continued to experiment with groundbreaking song writing and melodies is still mindblowing. Every record (they were records, kids) was like crawling down a (angel) rathole of surprises - you had no idea what they going to do. Always a surprise, or ten! They really started getting a defined sound with 'Nothingface'.
"I distinctly remember some of the metal world getting upset that VOIVOD was getting soft, commercial, bla bla bla. Same old stuff, really. Truth be told, it all comes back to the same thing I said earlier - they could have given two shits about what anyone thought. They were just growing at a break-neck speed. That's something almost all metal bands won't do because of the pressure to 'fit in.' Piggy's style was universal by this time; he incorporated all that he started out with into something so beautiful it was even more of a 'fuck you' than before. See, he understood that the small-minded boundaries that exist in that genre of music are unimportant. Expression is everything. He let it all happen, all of the time!
"When Jason Newsted decided to join VOIVOD full-time, a lot of people said a lot of things. Not all of them nice. I completely understood why he did it. Here is a guy who stood at the top of the mountain for a long, long time. Jason did almost everything he could have over the period of time that he was in METALLICA, everything but being a part of what he really loved about the band in the first place. Being a part of the innovation that they started with that made them the kings of the metal world. What more could he have done with those guys? Really? Made more money? He had enough, I think. Obviously, Jason is a man who knows what true greatness is. He was very happy to be making music with the pioneers, VOIVOD! He understood the true calling of music, TO GROW!!!
"I asked Jason how it was jamming with Piggy and he lit up like a kid. I knew exactly why.
"The last thing I'll say is this... I put Piggy up there with the very best guitarists on the planet. Too many to mention - you can mention anyone you respect and he fits right in.
"Piggy was an amazing guitarist, a rebel, a pioneer, a huge influence on me, and a great person. I will miss hearing what he would have done next, but at least we all have what he'd already done to look back at with amazement."

---
MANILLA ROAD:
To the master of Dis-chordal guitar voicing (Piggy): It is with great sorrow that we in Manilla Road light a candle for thee in Midgard Sound Labs. To me you were the one who found the lost chord. You were a huge influence on my own axe-playing and writing for Manilla Road. I had the honor to stand in front of you at a Voi Vod show in Wichita, Kansas during the Negatron tour and watch your masterful fingers create sound that took everyone into the whirlwind. Your riffs were Magikal. Your solos were majesty uprooted from the dark cauldron of the abyss. You were one of the most important inovators in metal guitar history and you inspired many of us to experiment where only you had dared to go. This is a tragedy that will effect the whole of the metal empire. May Flights Of Angels Sing Thee To Thy Rest. Up The Hammers my brother in metal and May Odin see it fit to open the doors of the Great Hall and allow you a place at the feast in Valhalla. Blessed Be from all of us in Manilla Road

---
CRYPTOPSY:
"Wow, it seems like all the greats leave us at a young age. Having had the pleasure to tour and be friend with such a man was a great honor. A Quebec legend is gone but shall not be forgotten. His immense talent and persistence will inspire us always.
"Our condolences to the D'Amour family, VOIVOD members and his friends.
"Rest in peace, Denis, and much love."

---
Stephen Egerton (ALL, DESCENDENTS):
"I heard about Voivod in 1987. We took a Montreal band called The Doughboys on tour with us, and they were good friend's with Voivod, and big fans as well. Some time later on another tour, I borrowed Dimension Hatross from them, and that was my introduction. I listened to the record a lot on that tour, and liked it quite a bit.
The next thing I heard was Nothingface, and I was absolutely blown away. More than anything else, the guitar playing struck me...this guy was playing the same kinds of chords I was, but the context was so different. It really was truly unique music. How rare! That tape barely left my player for the following year, and many of the records that followed shared the same distinction.
I never got the chance to meet Piggy. I will always regret that. I would have loved to ask him how his playing got to the place it did. What kind of influences could have brought on such fantastic, and otherworldy playing. I loved that in the midst of these very unusual chords and textures, that his solos tended to be "bluesey"...brilliant!
For the longest time, when people would ask me what I had been listening to lately, I would tell them about Voivod. I would tell them that listening to their guitarist was like listening to a big brother who was into metal instead of punk.
Rest in peace, brother Piggy. I'm sorry you won't be here to keep moving it forward."

---
Kevin 131 and Tim Gutierrez of PROJECT: FAILING FLESH:
Kevin 131: "First off, respect and condolences to the D'Amour family and to the guys in VoiVod. Hope you all are well. We all are totally wrecked by Piggy's passing away. What hasn't been said about Piggy? He was sooo far ahead of his time it's not even funny. No one, and I mean NO ONE was doing those crazy chords way back when War and Pain, RRRROOOAAAOOORRR, Killing Technology came out. No one. Now those chords and styles have become part of the genre. I always wondered if Piggy knew he literally created that whole influence of tones and structures we are so familiar with now, he locked it down.
I remember the week War And Pain came out; 1984, right? I was 14, Tim picked it up and we played it really loud on our crappy record player. I was so confused by the record because I had heard nothing like it it at the time... and how did they get all those noisy chords and sounds? A couple of years later I worked a paper route to save up for my first killer stereo system with big speakers, $700 at the time, 1987 I think it was. That's where all my money went. The first record EVER played on that system was Killing Technology. I don't think it came off the turntable to make turn for anything else for many hours. I still remember hearing it in all it's sonics and being totally blown away. Then sitting down and trying to figure out the chords on guitar and not being able to! Ever wonder why there are so few VoiVod covers (done right at least)? No one can figure out those chords exactly! That sums it all up. Piggy's playing was (and is) so original no one can duplicate it. To this day, 'Killing Technology' and 'Forgotten In Space' have got to me some of my favorite metal songs of all time. Twenty years later I still listen to those records in regular rotation.
Next era came years later after metal had waxed and waned. Hearing 'Insect' and how VoiVod had re-created themselves, heavier, stronger, with Eric's (Forrest) brutal vocals, and Piggy's playing more focused and just as unique. I was listening to Negatron in my car for the first time and the brutality of 'Insect' blew me away! Later on (for me at least) it was that impression which led me and Tim to contact Eric to be involved with Project: Failing Flesh.
So many thoughts... but this one sums it up. When working with the guys from Dysrythmia on one of their records, any time any 'off' chord was played we all called it 'Piggy chords!' To this day, I still think of any flat 5th, or minor 6ths or whacked out chord as Piggy chords. The guy was ground breaking. Period. I mean who else has Piggy chords??? You never hear of Hendrix chords, or BB King chords, but everyone knows about PIGGY CHORDS. Enough said.
Rest in Peace. God Bless."
Kevin
Tim Gutierrez: "As I write this I'm still in a bit of shock about Piggy's death. Most importantly I'd like to extend my deepest condolences to his family, friends, and bandmates. To me, Piggy was easily the BEST guitarist to ever walk this planet. Since the day I heard War And Pain I've logged so many hours listening to and marveling at his music. 'Guitar hero' and 'originator' have never been bigger understatements. Never got to meet him but feel like he's been a part of my life for over 20 years anyway… probably because he has. In those 20+ years not many days have passed at a time without Voivod blaring from the speakers or his HUGE influence on my guitar playing reminding me he invented the style every time I play the famous dissonant Piggy chords or a Piggy-like riff. Many other times my brother or friends and I will be sitting around talking music and end up at some point in the conversation waxing like music geeks about Piggy's insane riffs and playing. It's a tough thing to swallow that the world won't be able to hear (or see him play) more cool new songs in the future but like many have said, at least we were lucky enough he graced us with a large amount of his great music already. I know it will continue to bring me enjoyment.
Thanks Denis Piggy" D'Amour!! A big Piggy chord in your memory!! Rest In Peace."
Tim Gutierrez

---
ANNIHILATOR mainman Jeff Waters:
"I first met Piggy in a bar, somewhere in Montreal back in 1990. Unfortunately for him (and me), I was probably "on" about 15 beers at that time and was a real jackass with the "rock star" attitude that came along with my drinking days. I don't think I really offended him but basically just acted like a drunken ass. Since then, I have always regretted that meeting and what an idiot I was in front of one of the very few Canadian metal legends. When I heard he was sick last week, I emailed him, knowing nothing about what his condition was and wished him all the best at whatever was ailing him and a speedy recovery. The next day he died. Although my writings are for Piggy, and not I, this can also be used as an example of how you should really take advantage of the time you have right now to make amends or say the little things you really should say to people, because life can end, sooner than you expect. I will always regret not using my chance to talk to him again. My thoughts go out to his loved ones, band and all his fans."
---
Metal Blade Records CEO/owner Brian Slagel:
"When I first heard the original VOIVOD demo and then their first album for us and their debut as well, 'War and Pain', I knew they would be a great band for a long time. Piggy's guitar playing even way back then was original and powerful. He has influenced so many great players and his legend will only continue to grow in the future. We are so sad at his tragic passing and our thoughts and prayers go to his family and friends."
---
Ken Nardi (ANACRUSIS):
" VOIVOD were my favorite metal band in the late '80s-early '90s. DIMENSION HATROSS is still one of my all-time favorite albums.
RIP Piggy."

---
Former EXCITER singer/drummer Dan Beehler:
"I first met Piggy in his home town of Joncquiere, Quebec back in 1983. Exciter was playing a show there and Voivod was supporting. While I did not know him that well, I do remember he was a quiet and nice guy; seemed very content and well-grounded (unlike some of us back then!). We had a few cool talks and I did follow Voivod over the years. He was definitely an innovator in his genre and took a different path than the more traditional, conservative metal guys here. As well, he was a rare "nice guy" too.
My thoughts go out to his family and friends."

---
Former CANCER guitarist Rob Engvikson (currently in DANELAW):
"I was very saddened to hear of the passing of Denis 'Piggy' D'Amour from VOIVOD. VOIVOD is a band I've always loved from the early days of 'Rrroooaaarrr' and right through to 'Voivod', especially Piggy's awesome guitar playing style. With them 'dischords,' as I call them, he really did have a style of his own. I could recognise his playing instantly. I was really looking forward to the next VOIVOD epic. Hopefully we will still get to hear his latest recordings, as a tribute to the great man himself. Sadly, I never got to see the band live. They were due to play at a thrash festival in Leeds back in the '80s, but sadly they got held up in customs and never made the gig.
"My condolences to his family, friends, and fellow bandmembers. May he roam the stars, and haunt President X-D."

---
Guitarist/producer James Murphy (TESTAMENT, DEATH, OBITUARY)
"I also want to take a moment to express my sadness about the passing of Piggy [of VOIVOD]. I have no words that haven't already been spoken more eloquently than I can manage at this moment. I was given the first two albums as a gift and when number three, 'Killing Technology', came out I was at the store the day it was released. Some months later I stood outside at Janis Landing in St. Petersburg to see the tour and buy the T-shirt. Piggy was, and is, an inspiration."

---
Sam Williams III (guitarist for Balance, Slap of Reality, Down by Law, and the Pseudo Heroes):
"Voivod has influenced me greatly. They were pretty fearless in their willingness to try new things and go in different directions. And, as in any metal band, the guitar riffs were the heart of the music. Piggy's (greatest stage name ever) playing progressed, along with the band, from straight up black metal (which I loved) to a unique, more melodic yet not watered-down, progressive style (which I loved). I can't think of anyone that sounds like Nothingface or Angel Rat era Voivod except Voivod. I saw them a couple of times. The first time being when they headlined over Soundgarden here in Tampa. They blew me away. Piggy's tone and stage presence were like his playing... unique and cool. Piggy was the man."

---
Steve Austin (TODAY IS THE DAY):
"It was a Sad, Sad morning when I read that our dear friend, genius, virtuoso guitarist of Voivod, Piggy had died. Denis, was an accomplished guitarist with his own style. He played with fury and fast with precision, venturing out there where few guitarist can even dream of going. His work with Voivod was an important element of the entire Heavy Metal and Progressive rock movement. The album Nothingface was one of the first all Digital created records in Metal History (a DDD, CD). I tripped on two hits of acid more than a few times to Nothingface and Killing Technology. I was fortunate to be asked to do Voivod's live sound for their 1999 European Tour with Neurosis and Today Is The Day. I have to say that mixing Denis' guitar was a breeze. No EQ was necessary because he had it goin' full-on and always soarin' higher and higher. The Band is and always will be a Classic. Here's to you Piggy!!! You will be missed dearly by all, but your jams will live forever......."

---
HOLY MOSES:
"We got the sad message that Piggy of VOIVOD has died. You maybe know that Sabina (Classen) is a huge fan of Voivod and painted the Voivod logo as a huge patch on her jacket back in 1984! We will dedicate our next show in Holland, coming Saturday, to Piggy.
See ya Brother!!! One day we will all meet upthere. R.I.P."

---
Robb Flynn (MACHINE HEAD):
"(...) On a sadder note, on behalf of Phil Demmel and I, I want to send our deepest condolences to Snake, Blacky, and Away from VOIVOD as well as the family of Piggy aka Denis D'Amour. VOIVOD took Phil and I on tour when we were kids, and Piggy was our drinking buddy... always in a good mood, and always great to hang around with. The last time we saw him was when they rolled through San Francisco with SEPULTURA, and they tore it up as usual. Metal brothers, we lost another one of the good guys."

---
Fan tributes (lots of 'em!) can be seen in their original form, in the forum at this location.
---
** This is no way a full list, as there's been thousands of fan tributes as well. These are just a few, just to illustrate how much Denis was loved and respected by his peers. I'd like to thank Borivoj Krgin for the respectful coverage on Blabbermouth (where i culled most of these tributes, so thanks Bori), the Voivod members and ex-members and friends for being who they are, and my fellow fans for being the greatest bunch of people in the universe. Thank you all. - Skul **